Adobe GoLive 5, GoLive 6 GoLive CS & GoLive CS2 - Tips & Tutorials
NEW - EXCLUSIVE - Adobe GoLive CS2 Video Tutorial Clips



ADOBE GOLIVE CS2 ISSUES

The following is from Nate Baldwin of
www.mindpalette.com
Why Is GoLive CS2 Not Converting Special Characters Entered In Layout View To HTML Entities?


The default text encoding has changed from iso-8859-1 (GoLive CS and under) to UTF-8 (GoLive CS2). UTF-8 does not require HTML entities to display many special characters. Entering, for instance, a non-breaking space character in layout view will result in a non- breaking space character in source view instead of the   HTML entity.
Why the change? Aside from just not having to use the HTML character entities, UTF-8 works well for many languages that use characters outside the standard English character set. Also, UTF-8 is the default encoding for XML. Using any other encoding with an XML document requires an XML prolog, which drops IE Win into quirks mode, so UTF-8 encoding is best for producing valid XHTML pages.
If your special characters in documents made in earlier versions of GoLive appear corrupted when opening into GoLive CS2, it may be because there is no encoding type set in your document, and CS2 is opening it with the new default producing unexpected results. When opening a file with no encoding, GoLive should prompt you to specify which encoding to open the file in. Be sure to choose the encoding type used to create the document (probably iso-8859-1) and you can choose the second option to "set the page to the selected encoding" and let GoLive write the encoding META tag into the head section of your page. NOTE: Do NOT use this feature to change to a different encoding since the page text will not be re-encoded to match your selection.
You can also assign the encoding type after the page has been opened by dragging an Encode object from the Head tab of the Objects Palette into your document head section. GoLive will automatically assign the encoding used to open the file.
You can easily encode (or re-encode) all the pages in your site at once (or a group of pages) by using the new Special > Convert > Encoding... command. This command will write the encoding META tag into each page and re-encode all text to match. After running that command on your site, you shouldn't have to worry about assigning the encoding when opening your old pages anymore. As with any major change, be sure to make a back-up of your entire site before running the command.
If you aren't using XHTML and would like to change the default encoding back to iso-8859 like previous versions, go to Preferences > Encodings. Expand the "Roman" set and enable the Default radio button to the right of iso-8859-1.
If your page already has an encoding type set but GoLive is not recognizing it because it's too far down in the page code (for instance, if there's a lot of server-side code at the top of the document), you can increase the scan limit near the bottom of the encoding preferences.


Worried about the future of GoLive?
Wondering if you need to learn Dreamweaver? Have a look at our
free Dreamweaver tutorials
. You'll find some
free Dreamweaver video clips from Total Training
that will help you decide whether this is the right program for you. You can also read about the
latest Dreamweaver news
, and
download a free trial of Dreamweaver
.
EXCLUSIVE - Adobe GoLive CS2 Video Tutorial Clips
We are happy to present 5 exclusive video clips courtesy of Total Training. The sample clips are from the just released
Total Training For Adobe GoLive CS2
. In this comprehensive training package host Lynn Grillo provides detailed instruction of advanced GoLive CS2 topics including page building with Cascading Style Sheets (CSS), image maps, forms and tables, and editing DHTML, JavaScript, JS, ASP, and PHP source code. An entire hour is dedicated to Web design tips and tricks. For more details, pricing, and special offers visit
Total Training
.

Adobe GoLive CS2 - Working With Forms

With this GoLive CS2 video tutorial clip you will learn the following:
• How to create a form container and work with various form elements.
• How to use the library to access a variety of form templates.
10.5 MB / 4:49 min

Adobe GoLive CS2 - Working With Image Maps

With this GoLive CS2 video tutorial clip you will learn the following:
• How to create hotspots on different areas of an image.
• How to use the image map tools to create links to different pages.
8.8 MB / 4.00 min

Adobe GoLive CS2 - Working With The CSS Interface

With this GoLive CS2 video tutorial clip you will learn the following:
• How to use the CSS Editing Window to create your styles.
• How to customize the interface to include a button bar.
5.1 MB / 2:15 min

Adobe GoLive CS2 - Working With The New Site Window

With this GoLive CS2 video tutorial clip you will learn the following:
• How to use the New Document dialog box to create a new site.
• How to preview and select a pre-installed Sample Site.
8.1 MB / 3:34 min

Adobe GoLive CS2 - Working With Site Creation's Advanced Option

With this GoLive CS2 video tutorial clip you will learn the following:
• How to work with the Site Creation Wizard.
• How select a different URL Encoding.
2.5 MB / 1:29 min

GOLIVE CS2 — GOLIVE 8 - UPDATES & NEWS
Adobe has released Creative Suite 2 with GoLive 8. Here are some quick links to give you an overview, some reviews, and a preview of new features: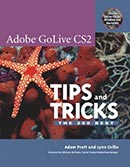 NEW GoLive book – ADOBE GOLIVE CS2 TIPS AND TRICKS

Price: $13.59 & eligible for FREE Super Saver Shipping.
Book Description
GoLive CS2 is more than just a simple Web authoring tool: As part of Adobe's updated Creative Suite 2, it's a key component of an overall Web workflow that lets you work seamlessly among all of your graphics applications to create spectacular Web sites. This info-packed guide lets users get right down to doing by focusing on just the GoLive features they're mostly like to use and showcasing each in stand-alone tips–complete with a relevant hint or two and a graphic example. In this fashion, you learn just what you need to know, exploring the program in a way that makes sense to you. Before you know it, you'll be importing layered Photoshop files into GoLive, creating PDF files from within the GoLive environment, and using the visual layout grid and Cascading Style Sheets to turn out fluid, beautiful Web pages. Also covered are all of GoLive CS2's new features: enhanced live rendering, mobile CSS support, Visual CVG-Tiny authoring and more.
About the Authors
Adam Pratt and Lynn Grillo are both Application Engineers at Adobe and have extensive experience using, teaching, supporting and documenting Adobe GoLive and all of Adobe's Creative Suite Products. Their work involves speaking at conferences such as Seybold and Comdex and they are Adobe Certified Experts in GoLive and many other Adobe applications. They are the authors of Adobe GoLive CS Tips and Tricks.
Buy this book at Amazon.com -
ADOBE GOLIVE CS2 TIPS AND TRICKS