PHOTO: LAX September 21, 2005. JetBlue 292 BUR-JFK (Airbus A320-232) makes its emergency landing at LAX.
© Andrew Marino Used with permission (see larger, uncropped version)

NEW: Flight Apps And Flight Tips For Mobile Phones - Adroid & iPhone
This article lists the best mobile phone apps for travelling, especially for flight and some flying tips for dealing with airports and airlines.



JetBlue Flight 292 - Podcast Of Pliot-To-Tower Audio
While the passengers watched the emergency unfold on news coverage on a television inside the plane, the Captain was busy finalizing his plan for the emergency landing. During this time he was in contact with maintenance and his dispatcher, and it was recorded by Joe d'Eon, who is a commercial airline pilot who runs the site "Fly With Me." The link below will take you to a page that offers an option to download the mp3 or listen via iTunes.
(Read the story behind the audio capture, and the story behind the photo.)





JETBLUE FLIGHT 292 – Captain discusses his options with maintenance and his dispatcher (mp3)



The Story Behind The Podcast

We asked Joe from 'Fly With Me' for a little background about how all this transpired: "I was actually pretty lucky to get the audio for that episode. I had just switched over to ARINC frequency to get our HF frequency assignments for the Pacific crossing, and I heard the exchange. I knew right away that I had to record it. The captain I was with just looked at me with a puzzled expression, wondering what the heck I was doing. It was quite a bit of luck when you think about it, because I am ordinarily only on that freq for a minute - once we get our HF assignments, we switch away."

We also asked Joe what kind of equipment he uses: "I'm using a Marantz PMD660 with a Shure SM-58 microphone for most of what I do. It's big and expensive, but it's rugged and it gives me great quality. For the ATC recordings, I hang the mic above the cockpit speaker, then adjust the speaker volume and recorder input levels to get the right record levels. It has taken some time to get it right, and sometimes I mess it up (usually too low a speaker volume)."

The Story Behind The Photo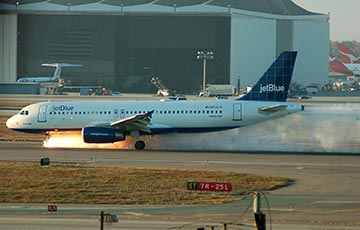 We asked Andrew to tell us what it was like that day and how he came to capture this photo. "I just recently purchased my first DSLR camera. I bought a Nikon D50 with a 18-55mm lens and also a Tokina AF80-400mm F4.5-5.6 telephoto lens. I'm a huge aviation nut and also had wanted to do aviation photography for a long time and had been spending a good amount of time over at LAX taking shots of aircraft landing and taking off. The day this all happened I was at home when I turned on the TV and saw this jetBlue A320 circling over the Pacific. I knew it was going to land somewhere in the LA area and my gut said LAX. At first one might thing Long Beach because its jetBlue's west coast HQ but LGB only has the one runway the airlines can use and for that plane to land there it would mean that runway would be shut down for a while.

"LAX just seemed like a more logical choice. I live in the Mar Vista area of Los Angeles, so I am about 15 minutes from LAX. I got my camera ready, packed my bag and waited by the TV to see if they were going to confirm LAX as the landing site. Once they did I hopped in my car and sped off to LAX. I knew they were going to land of runway 25L so Imperial Hill was the place to be. Imperial Hill is in El Segundo and lots of photographers go there to get shots of the action at LAX. It sits up above the airport about 40 feet and is about 3000 feet away from the actual runway. When planes land or take off from 25L you can get a full framed A320 with about 280mm.


"The entire drive to LAX (through rush hour traffic) I was listening to my airport scanner to see if anything changed. I arrived at Imperial Hill to find literally thousands of people lining the hill and standing on cars and trucks. There were 3 or 4 news choppers in the sky overhead and at least 5 or 6 satellite trucks from the news channels there already. I quickly parked the car (rather far away) and sprinted back to the top of the hill. Right as I got there the plane was touching down at the other end of the runway. I pulled out my camera and turned it on and pushed through a few people and as I put the viewfinder to my eye the nose wheels touched down and the sparks began to fly. I shot about 15 pictures in a row and the picture you see today was the third shot I got. It was the best because the sparks were at the most intense at that moment and also because the A320 was closest to me at that point.

"When I decided to go over to LAX to capture the event I didn't think it was going to be a huge event or disaster. I knew that the news would make it out to be more dire than it was, and I suppose that explains why all the people were there, but I thought that in the worst case scenario the gear would collapse and the plane would simply come to rest on its nose. I did think the plane could possibly catch on fire, due to the sparks and fire from the landing gear, and if that happened things could turn bad quickly. I certainly hoped I was not going to capture a horrific crash and I was glad I didn't. But it was funny, the entire time I was rushing over to LAX I was thinking to myself "I've go to get this shot!" I guess the inner wannabe photo journalist took over.

"There were many photographers there, some were just people with little point and shoot cameras and some others where obviously professional photographers. My equipment put me more towards the top end of the people there, but there were certainly more trained and better equipped individuals capturing the event than me.

"When I got home I immediately loaded the files into Photoshop CS2 which I had only begun using a day or two earlier. Needless to say I was not and am still not totally competent on the program so I simply cropped the picture and darkened it slightly and that was it. I uploaded it to airliners.net a few minutes later and it was on the site not more than 2 or 3 minutes after that.

"When I was taking the shots the thing I was trying to remember was to simply stay calm and shoot as many shots as possible. I didn't worry if every picture was framed perfect or if the light was perfect because it was happening so fast that you couldn't worry, and if you did try to make it perfect the event would be over and you would have nothing to show for it. I shot the picture at a focal lens length of 170mm and an F number of 5. Everything else was pretty much auto, since I had no time to set up when it happened. I'd like to think that if this had happened a few weeks later I might have gotten an even better shot, since I'm still learning how to use my camera, but I suppose you can just chalk it up to semi-beginners luck and that's that!"


New York Daily News Story On Pilot Scott Burke

Here's a story about Captain Scott Burke, 46, a veteran JetBlue pilot from Raleigh, N.C., with a photo. From the story: "The pilot who brought a crippled jet in for a tarmac-scorching touchdown in Los Angeles without harming a single passenger is a cool-headed professional who doesn't flinch under pressure, relatives and passengers said yesterday."


Congratulations

Congratulations to Scott Burke and the JetBlue crew for their perfect emergency landing, many thanks to Andrew Marino for an amazing photo, and many thanks to Joe d'Eon for the incredible clip he happened to pluck out of the air.





Visit 'Fly With Me' - Joe d'Eon's Podcasting Site – Take a close look at Fly With Me and you'll find some remarkably interesting things there. This is a very good site!



SeatGuru.com – Better than free cocktails on a trans-Atlantic flight, this site allows you to choose your aircraft from a list of several carriers, and then get the low-down on every seat on the plane. Flying an American Boeing 757-200? You'd be well advised to avoid seats 15A and 15F, but if you find yourself in row 17, count your lucky honey-roasted peanuts. To find the best airline seats (including First Class, Business Class, and Coach Class) you can simply select the aircraft you're flying using a drop-down menu.



JustPlanes.com – Great site that has the latest aviation news and a huge collection of quality links. Make sure to look through the Airline Foto Contest, which has some wonderful photography!



Airliners.net – Considered the biggest aviation interest site in the world. There are over 350,000 photos online and some of them are absolutely spectacular. Three favorites are a Boeing 737-7 in a late 90 degree right turn, a KLM 747 landing, and an Air France 747 coming in very low over a beach. Look for even larger images on site.



Air Traffic Control System Command Center (ATCSCC) – There are from 4,000 to 6,000 aircraft operating in the National Airspace System (NAS) during peak periods. This equates to approximately 50,000 aircraft operations per day. The role of the ATCSCC is to manage this flow of air traffic within the continental United States.



AV HOME – This aviation site contains over 7,000 links to aviation links in a variety of categories, including Ground Support, Reference, Training, and Flight Simulation. Main and sub-categories are included on the front page. This site also has a list of aircraft for sale and a variety of aircraft industry lookup tools. [AV HOME]



Find more links to other aviation sites and another gorgeous photo on our Aviation Links Page.




Live ATC & Airport Webcams
|

Aviation Links Page
|

Aviation Books Page

FREE FLIGHT TRACKER. Track flights in real time - see our Free Flight Tracker Page.


AIRBUS A380 - see an amazing virtual reality tour of the flight deck of an Airbus 380.


ATC NEWS. Read the latest ATC NEWS stories on our Air Traffic Control News Page.



[ Previous 5 Sites | Previous | Next | Next 5 Sites | Random Site | List Sites | Add a Site ]