LIVE RADAR. Go to PASUR AIRPORT MONITOR for a list of airports with live radar.


PHOTO: © Marek Wozniak (see huge version here)


Flight Apps And Flight Tips For Mobile Phones - Adroid & iPhone


There was an article in the New York Times by David Pogue that listed the best apps for travelling, especially for flight and some flying tips for dealing with airports and airlines. Here are some excerpts, as well as links to the products.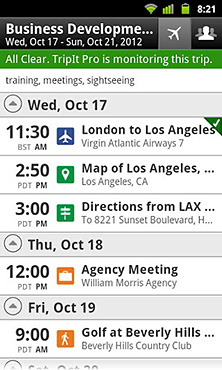 Use TripIt.com

Tripit is this amazing, free Web site. Every time you book a flight, hotel or car rental online, you forward the e-mail confirmation to plans@tripit.com. Magically, the service parses the confirmation e-mail and records all of the details: confirmation numbers, times, dates, flight numbers and so on.

Best part: You can subscribe to your own Tripit feed, meaning that your computer or cellphone calendar will record those flight details automatically. If you're still typing your flights and travel details into your computer calendar or phone by hand, you're wasting a lot of time. From the TripIt site:

How does the 30 day free trial work?
When you sign up for TripIt Pro or Tripit for Business, you have 30 days to try the service free of charge. If you decide you don't want to keep TripIt Pro, simply cancel the service within this 30 day period and you will never be charged.

I live outside the United States, can I use TripIt?
Yes - TripIt, TripIt Pro, and TripIt for Business are available for people who live outside the US.

What's the difference between Pro and TripIt for Business?
TripIt for Business is for office admins or other travel admins to manage other TripIt users' travel. TripIt Pro is for travelers to get enhanced services.


Use FlightTrack Pro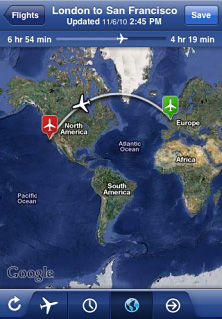 This app ($10), for iPhone, iPad or Android, is amazing
. It shows every detail of every flight: gate, time delayed, airline phone number, where the flight is on the map, and more. It knows more, and knows it sooner, than the actual airlines do. Or more than they'll admit. For example, for any flight, one tap shows you its on-time record. You'd be shocked at how rarely certain flights take off or land on time.

Best part: it auto-syncs with Tripit.com. Once again, you're spared having to do any manual data entry at all.

More from the FlightTrack Pro site: Add push flight alerts, Tripit, terminal maps and weather delays. No subscription needed! The app gives you everything you need to manage your flights in real-time. With over 3,000 airports listed and over 1,400 airlines available, it's the most comprehensive way to monitor your flights. It even has an offline mode for in-flight use.


Check in from your phone

For a long time, I wondered why every airline had an iPhone or Android app for checking in. Is displaying a bar code on your phone really so much better than clutching the little boarding pass paper printed out by the kiosk at the airport?

Anyway, I finally tried it. The Delta app is the best of the bunch. You open the app—the day before your flight, for example, or even on the way to the airport — and it automatically shows the flight you're about to take. It's much smarter than most airline kiosks, which make you manually enter your flight information before printing out your boarding pass. (Shouldn't the computer know what my next flight is on that airline?)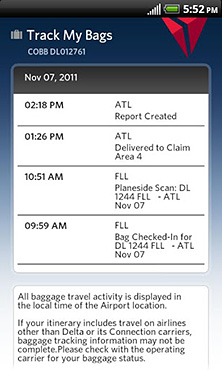 In the Delta app, you tap the flight, tap Check In, and presto: it displays your "boarding pass" in the form of a big black-and-white QR code (a newfangled bar code). On that same screen, conveniently enough, is your gate number, seat number, seating zone—even Delta's customer-service hot line. Other airlines have similar apps, but none as fluid or beautifully designed. Continental's app, for example, makes you re-enter your frequent flyer number every time you check in for a flight.

No matter which airline's app you're using, you handle your phone just as you would handle the boarding pass. For example, you show it to the security person who monitors the entrance to the security line. When you get to the actual Transportation Security Administration rep who checks your ID and boarding pass, you put your phone face down on a little glass scanner at the rep's little desk, and you're ushered right on through. Kind of amazing, really. Anyway, I've discovered several advantages to checking in with your phone. First, there's little chance that you'll lose your boarding pass. Second, you're saving paper and trash.

Third, some airlines, like Delta and United, automatically reassign you to first class if you're a frequent flyer and if there's room. In my experience, checking in early, using your phone, gives you a better chance of snagging one of those free upgrades. You're ahead of all those people who don't check in until they get to the airport. From the Delta site:

How do I check baggage with an eBoarding Pass?
During Online Check-in, you are able to specify how many bags you would like to check. You can then proceed directly to the baggage drop locations at the airport and present your eBoarding Pass along with a valid government issued photo ID for the ticket agent to verify. Then, proceed to the security checkpoint with your eBoarding Pass.

If I am standing by for an upgrade at the gate, what happens to my eBoarding Pass?
If you are cleared for an upgrade, you will board with your original eBoarding Pass. There is no need to retrieve a new paper boarding pass or new eBoarding pass.


Use Kayak and FlightAware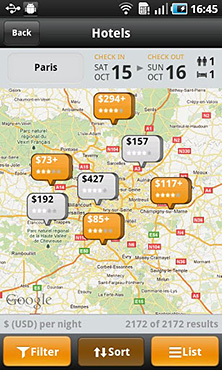 I should also mention my two other favorite travel apps. Kayak (free for iPhone and Android) offers a beautiful, fast app for searching flights — all airlines. It doesn't sell tickets, just helps you find out what flights are available. I love the Time filter: you can drag a slider to narrow down the hours of takeoff or landing that you'd consider.

FlightAware.com tracks a flight's progress. (Similar: The Flightwise app for iPhone or Android.) This isn't necessarily a benefit to you, the traveler — but if you're the one who's supposed to pick up somebody at the airport, it's a must. You'll see exactly where that plane is (on a map), and exactly when it will be landing.

From FlightAware.com: This app allows you to track the real-time flight status and see the live map flight track of any commercial flight worldwide and general aviation (private, charter, etc) in the United States and Canada.

Track by aircraft registration, route, airline, flight number, city pair, or airport code. Tracking data includes complete flight details and full-screen maps with NEXRAD radar overlay.

Receive real-time push notification flight alerts, view airport delays, see nearby flights (in the sky overhead), and more.


Know which flights are laptop-friendly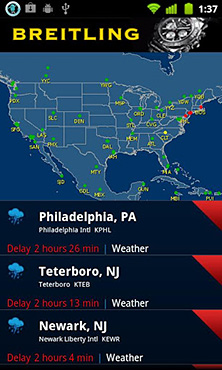 There are now about 1,100 planes in the United States that offer Gogo's inflight Wi-Fi ($13 cross country, smaller amounts for shorter flights, $40 monthly unlimited). You'll find them, usually on cross-country flights, on Alaska Airlines, American, Virgin, Delta, Frontier, US Airways and United.

You can use SeatGuru.com to find out if your flight will offer Wi-Fi and power outlets. Most important of all, it tells you how cramped your seat will be compared with other airlines (click "Comparison Charts"). The airlines that offer power outlets in coach are Virgin (always) and American and Continental (sometimes). Other black-diamond traveler tips, based on my experiences: Delta recycles all cups and cans from the beverage service, and donates the recycling proceeds to Habitat for Humanity. Continental charges $7 to watch its in-flight TV on cross-country flights. And its exit-row seats don't recline.

Virgin has free seat-back TV, very cool lighting and music, and a touch screen that lets you order a drink or a snack at any time during the flight. United and Continental are supposedly merging, but in the meantime, they're completely bungling the integration. You might buy a Continental ticket but arrive at the wrong terminal at the airport because it's actually a United flight — or vice versa.

COPYRIGHT 2012, THE NEW YORK TIMES
NOT TO BE REPRODUCED WITHOUT PERMISSION

FLIGHT TRACKING – Track commercial flights for free - see our Free Flight Tracker Page.


AIRBUS A380 - see an amazing virtual reality tour of the flight deck of an Airbus 380.